How to create a new job

Struggling with Jobs?
If you haven't already registered on the app, please do so.
Then you will need to "Sign in" to your account with your email and password.
If you do not have any jobs with us yet, you will automatically see the "Create Booking" screen when you log in to the app.
If you have previously created a job you will be presented with the "Bookings" screen, from there you can click " Book" to add a new job for quotation.
Step 1 is to select your type of job;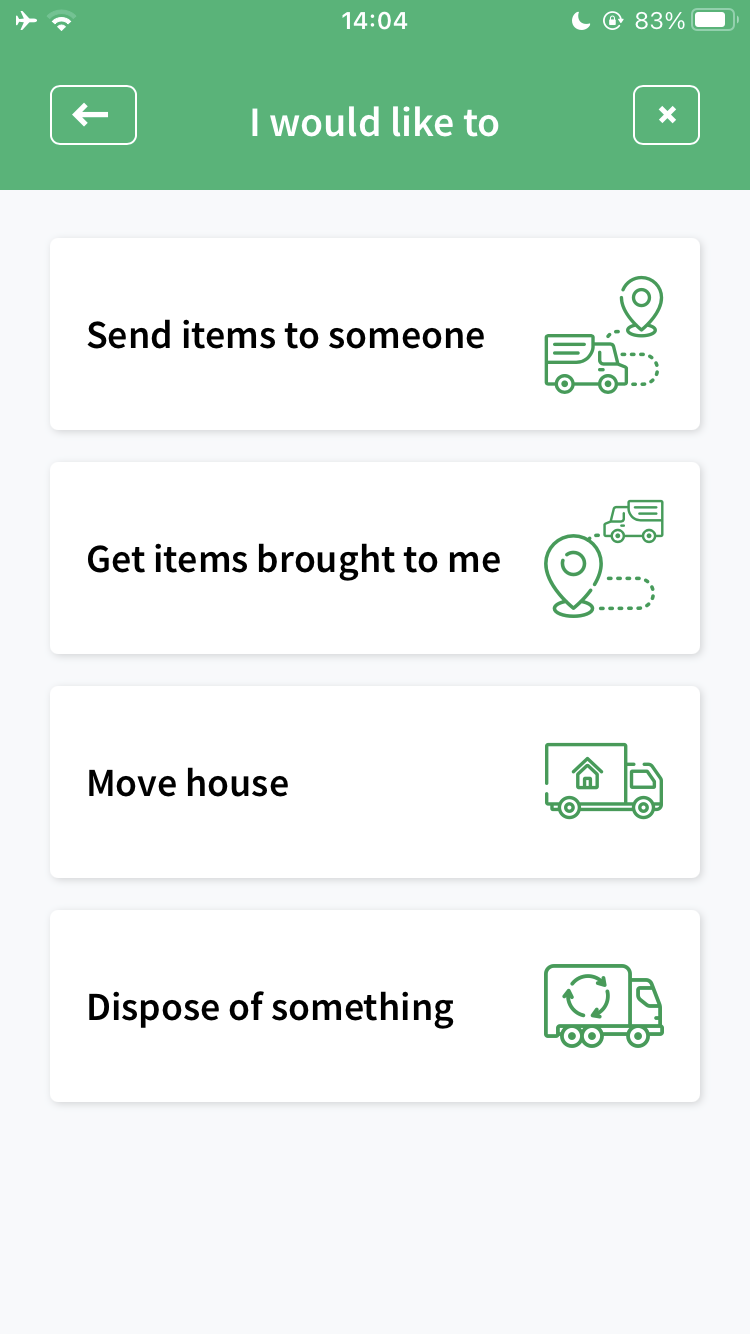 When you've made a selection click "Next"
Step 2, give drivers a brief description and provide some pictures to help them quote more accurately.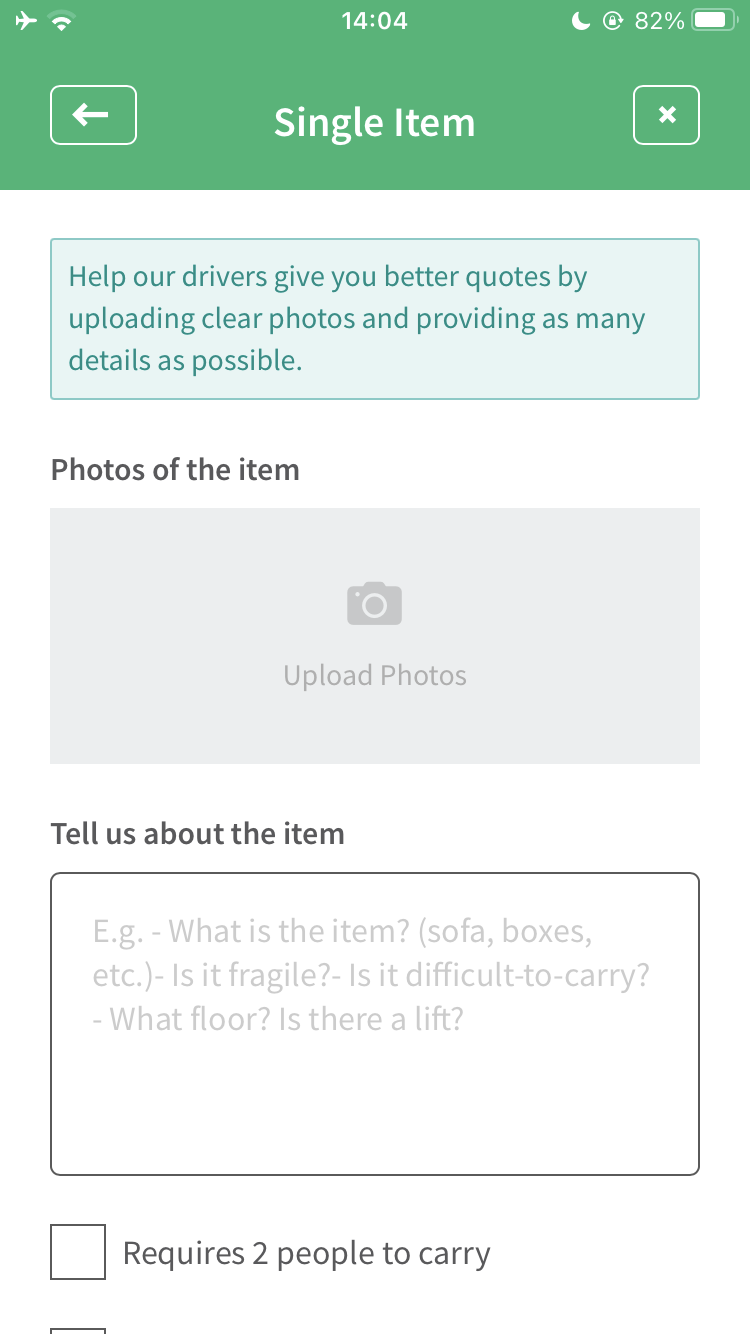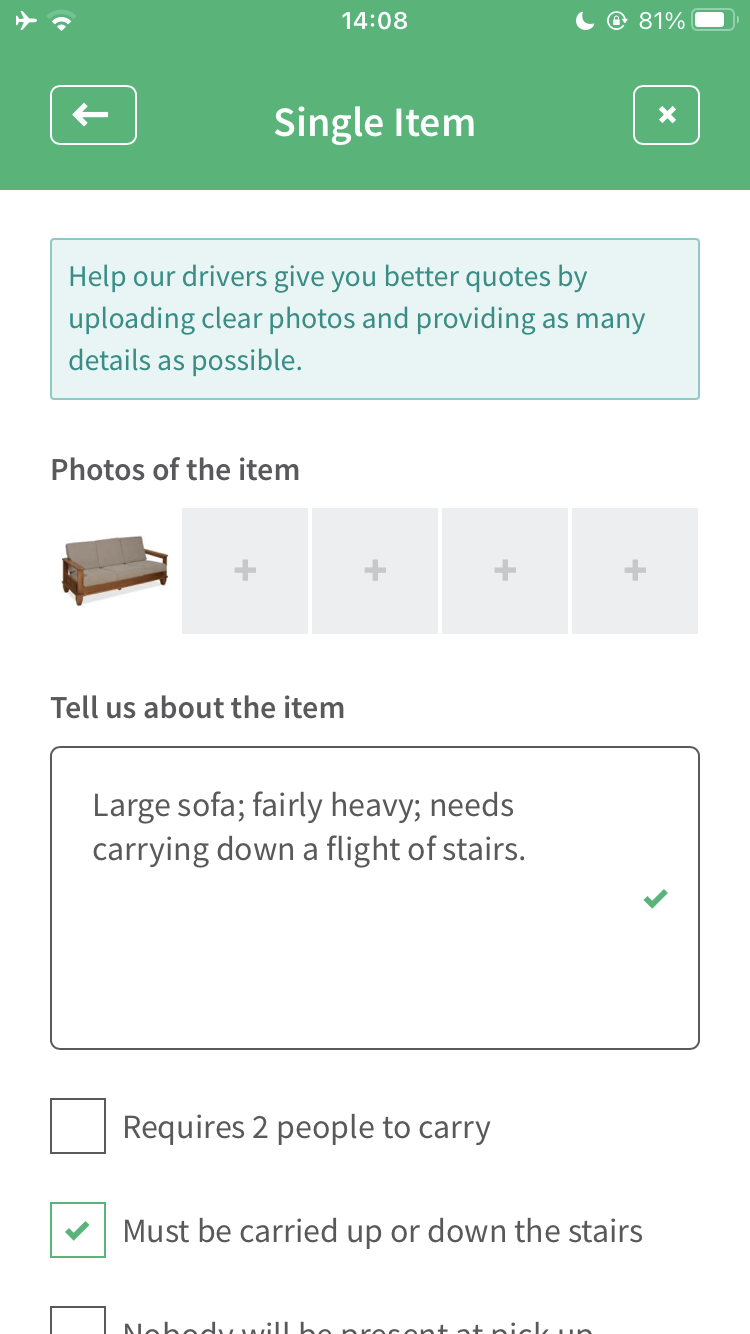 If there is more information you think may help, such as "up 2 flights of stairs" or "limited van access due to a narrow lane", click on additional info and add the extra details in the box provided.
Click "Next" to move to step 3, You're half way through already!
Step 3, provide details of To and From addresses
Add a postcode, full address, or use the "current location" picker, if you are at the location the items need collecting from.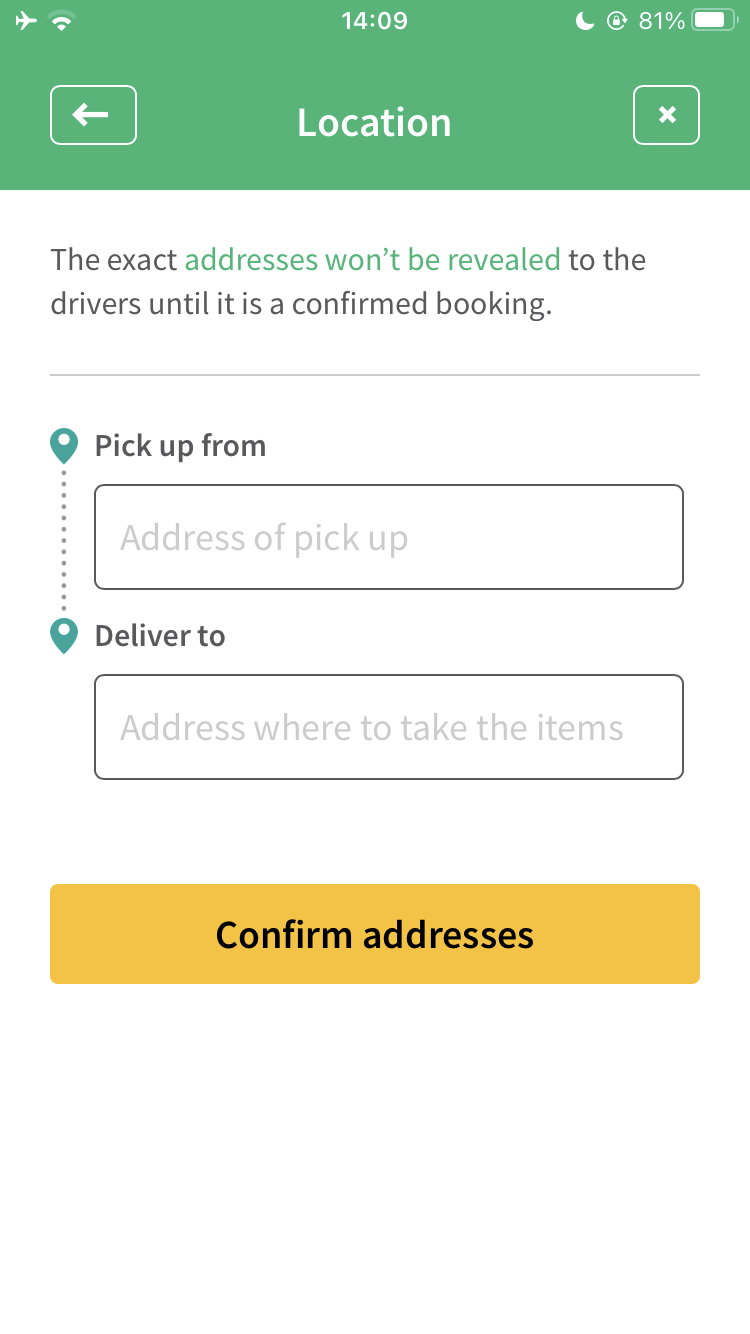 Then add a destination address and/or postcode – remember, the more accurate the information the more accurate the quotations will be.
If you're having rubbish removed or a house clearance, you can request the driver to take everything to the nearest recycling or waste disposal site using the handy "Nearest Tip" button.
Then request a date and time for the collection, or simply ASAP.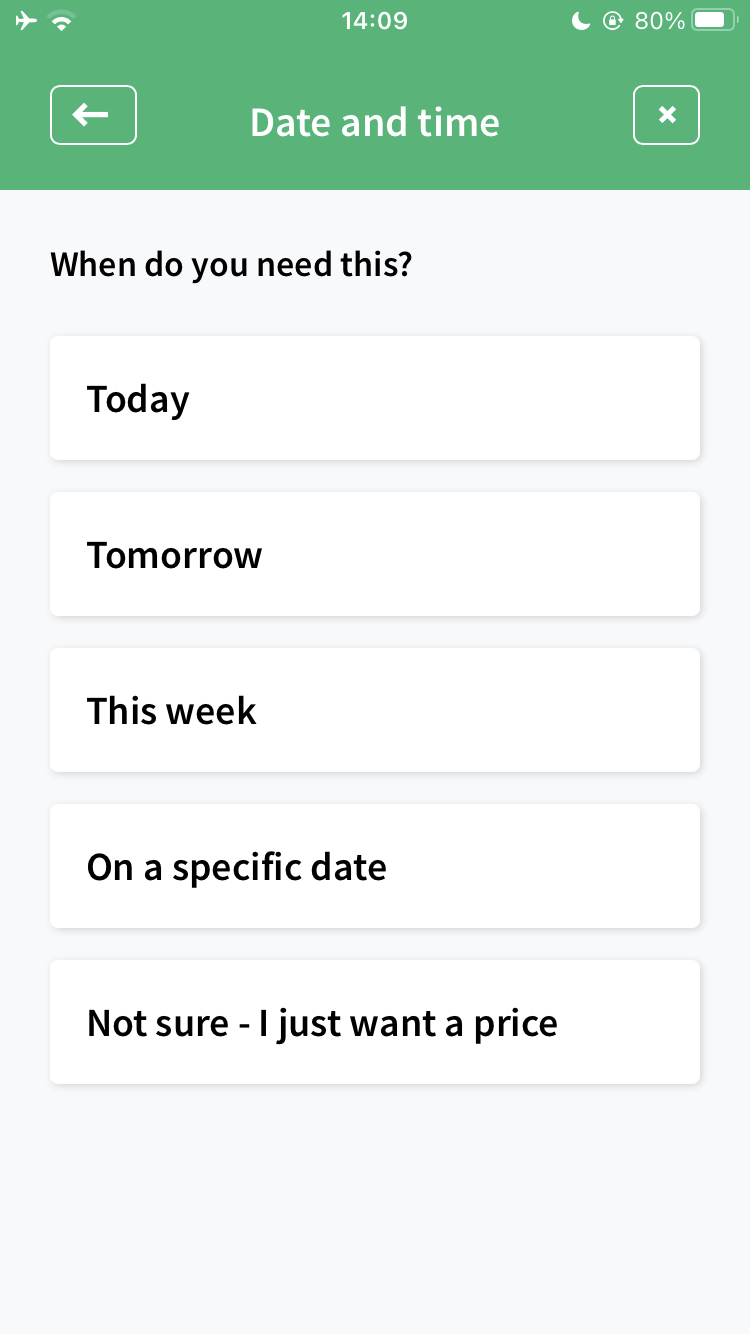 And press "next" again to go to the final step.

Step 4 is a summary, just checking you have not forgotten anything and that all of the details are correct.
Once you've checked and you are happy, press "Submit"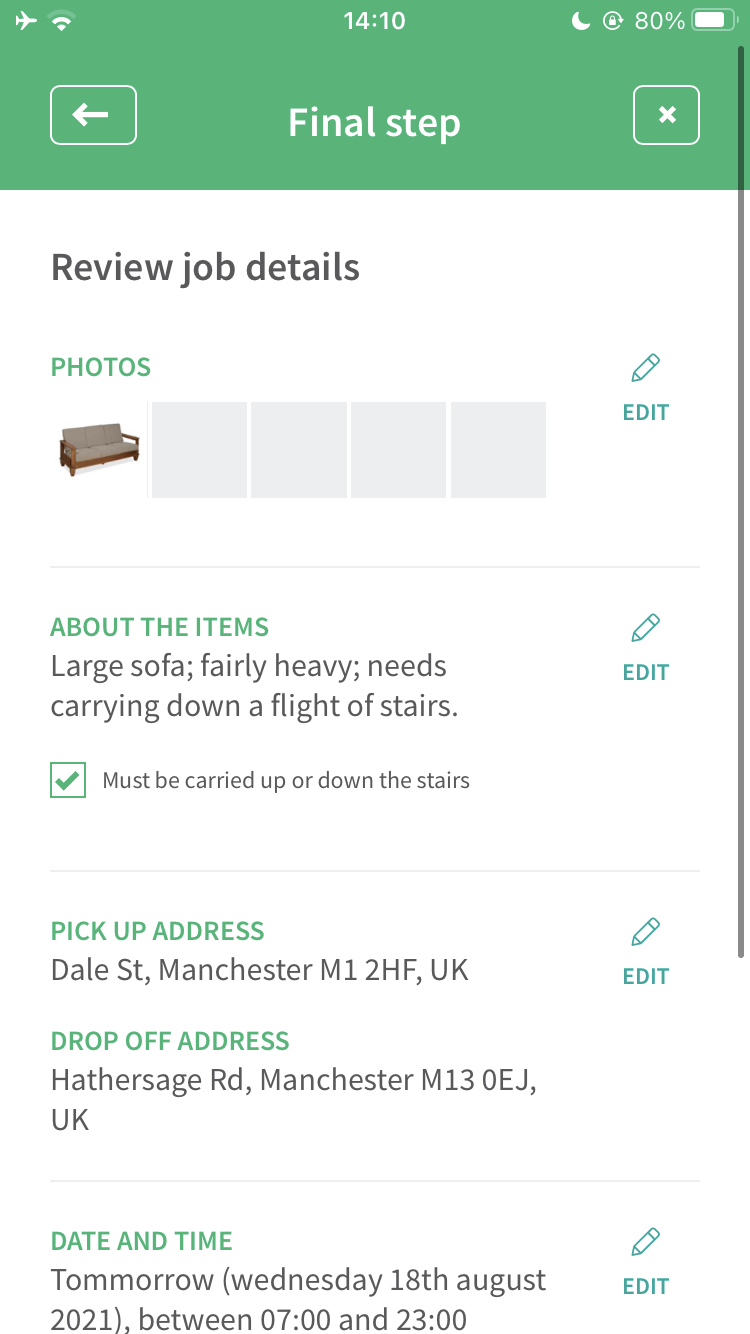 There are plenty of drivers in your area all waiting to give you a quote for the job.
It won't be long before you hear the "beep beep" which means you have received a quote from a local driver who can do the job for you!
Handling Quotes

What should you do when you've received a Quote from a Driver?
When you hear the "Beep Beep" from the app it could be a new Quote!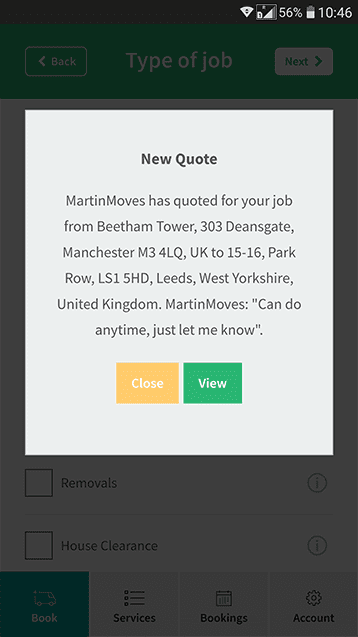 Click "view" to see the details of the quote.
You will be able to see a Driver's review score, how many jobs they have completed, and their Insurance and License statuses, along with the Price Quoted and any messages they may have added to the quote.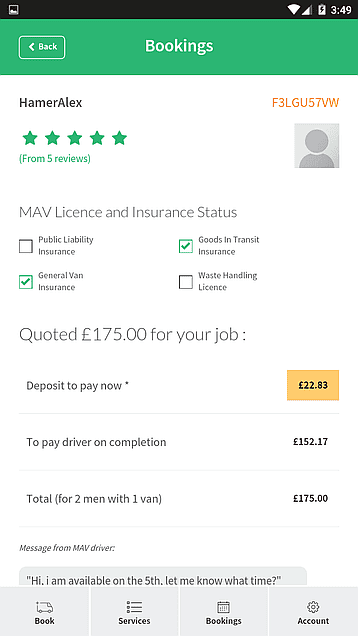 You can communicate further with the driver or wait for more quotes, you'll get a few quotes and they won't all be the same as the drivers set their own prices.
Drivers can give information on number of people they will bring, and how many vans they have available, so for some jobs you may wish to choose a more expensive quote simply because more hands will be available.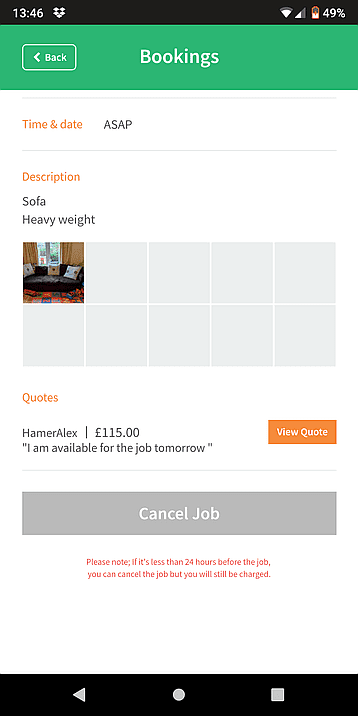 Once you are ready to accept a quote, select which one you think will be best for the job and click "View Quote"
Inside the Quote detail screen, you will see the breakdown of the charges. The remainder of the fees should be paid directly to the driver, via cash on the day, bank transfer, or whatever you agree between you and the driver.

Enter your card details to pay for the booking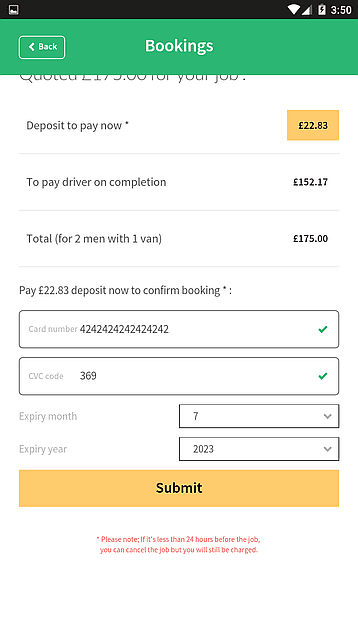 You will get a confirmation on the screen and via Email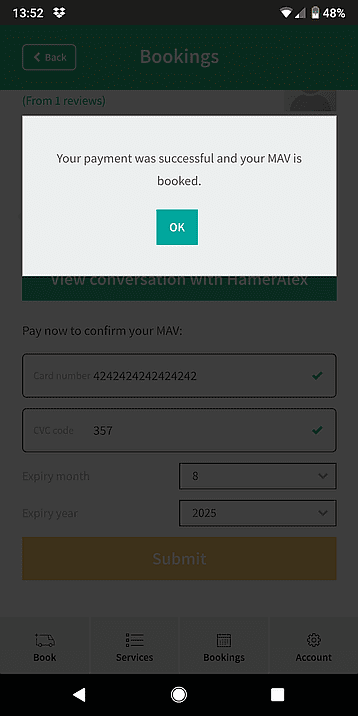 Congratulations! Your job is now Booked!
To view booked jobs, click on the Bookings Menu and you will see Pending (quotes incoming), Accepted (Quotes accepted and paid for), and Completed bookings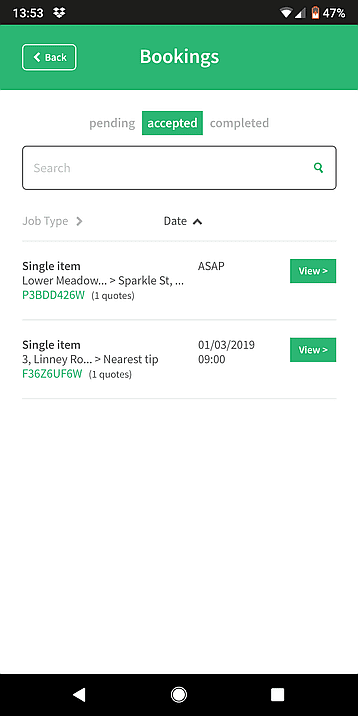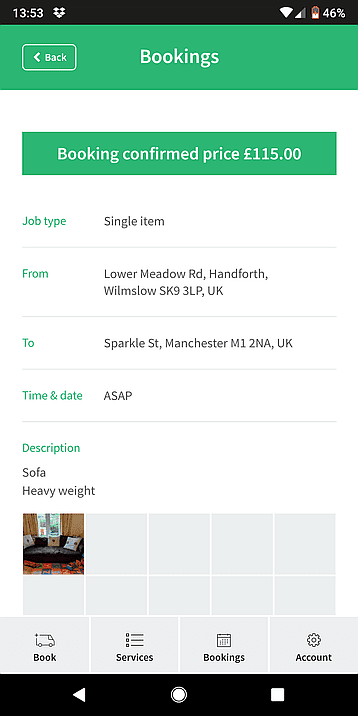 How do I contact my Man + Van Driver?

Contacting a Driver after making a booking is easy!
After booking a job you can contact your Man + Van driver via the Confirmed Booking.

Select "Bookings" in the navigation menu at the foot of the app.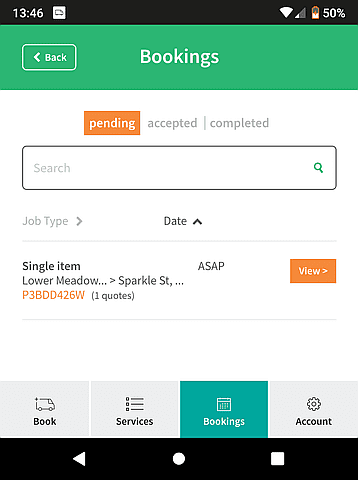 Find the job which has been quoted by choosing the "Accepted" filter at the top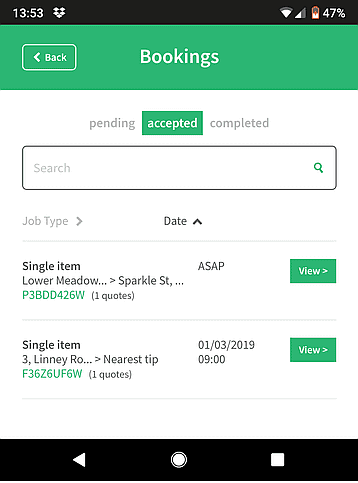 Click on "View" to open the detailed view, and scroll down to the bottom where you will see a "Contact" option to open a messaging thread with your driver.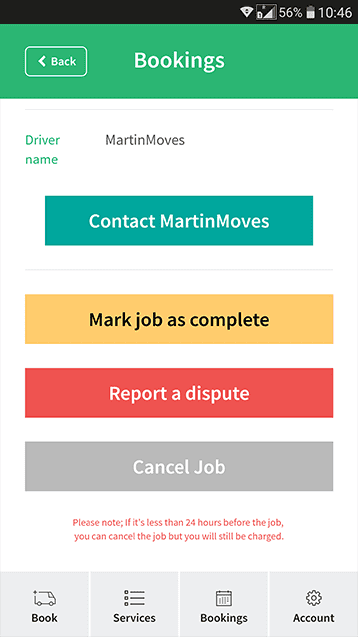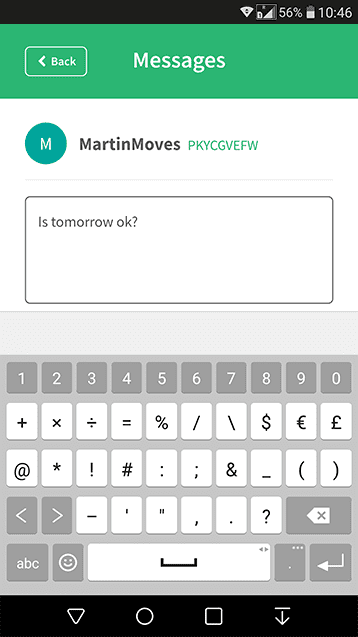 Job Complete

What do I do once the job is finished?
When the job is completed and your man and van is packing away, this is when you would normally pay the balance owed.
You should then press "job complete" and write a Review and give your driver a Star Rating.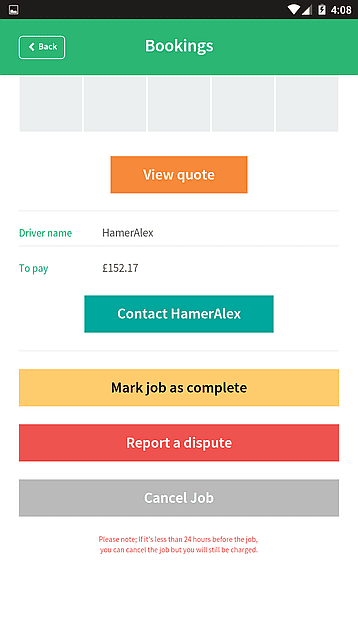 The star rating and review process is an important part of the process. This will help our drivers build business reputation within the App and review their feedback. It will also help customers when choosing a service provider.